Distributed by:

Equipment Overview | Filter Pump Industries / Penguin Pump | Process Technology
Process Technology Thermax2 Heat Exchangers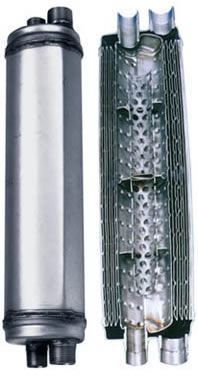 HIGH OVERALL HEAT TRANSFER
:
Enhanced turbulence with low pressure drops; Wetted surface area 5 to 6 times that of equivalent tubular designs. Heat transfer rates 3 to 4 times that of tubular heat exchangers.
INNOVATIVE DESIGN
:
TherMax2 Spiral Plate Inline Heat Exchangers feature a cylindrical dimpled plate design wound into a self-enclosed spiral provides extremely high thermal transfer for package size. Patented fabrication process ensures consistent, high quality production.
ALL WELDED CONSTRUCTION
:
No gaskets to fail. TIG welding is used on the sheet edge (which separates Circuit A from Circuit B).
LOW INTERNAL VOLUME
:
Maximum single circuit capacity 76 fluid ounces (2.2 liters).
COMPACT MODULAR DESIGN
:
Offers easy installation and servicing. Manifolding is simplified for larger applications. Heat loss is low, requiring little or no insulation.
TEMPERATURE RANGE
:
-60°F (-50°C) to 480°F (250°C)
PRESSURE RATING
:
Axial Circuit A: 230 PSI (1586 kPa or 16 bar)
Spiral Circuit B: 360 PSI (2482 kPa or 25 bar)
CHEMICAL COMPATIBILITY:
Chemistries compatible with 316L and silicon baffles (B circuit only).
MAXIMIZED HEAT TRANSFER SURFACE:
Dimpled sheet provides sheet spacing localized turbulence. Results in very high heat transfer rates.
APPLICATIONS:
Industrial, process system, cogeneration, solar, plating, electronics, commercial and industrial washers, evaporators/condensers, chillers, heat recovery, boilers (steam and water), vapor recovery, and water heaters.
SIZES:
Seven sizes from 1.1 ft2 (.10 m2) to 15 ft2 (1.4 m2). Compact cylinders from 3" (70mm) x 6" (158mm) to 5" (120mm) x 20" (515mm).
Downloads: