Distributed by:

Equipment Overview | Filter Pump Industries / Penguin Pump | Process Technology
XC Series, Inline Fluoropolymer Heat Exchanger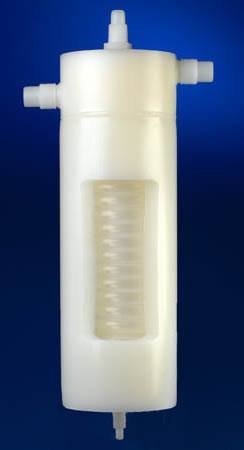 Rugged inline heat exchangers ideal for one pass cooling of chemicals dumping to waste stream. This product is also appropriate for heating applications. Eliminates high costs associated with water aspiration. PP or PVDF housing and fluoropolymer tubing. Custom configured for your application. Custom sizes available, please contact factory for sizing assistance. XC in-line heat exchanger shown (cutaway for illustrative purposes).
Specifications
SERVICE
:
In-line chemical heat exchanger with all fluoropolymer wetted surfaces (tubing side) for virtually any wet chemistry application.
SIZES
:
1.5 ft2 (.14m2) of exchange area
2.5 ft2 (.23m2) of exchange area
3.5 ft2 (.33m2) of exchange area
STANDARD FEATURES
:
½-inch (12mm) heavy wall PFA tubing, .030" (.76mm) thick
All welded construction (shell)
4½-inch (114mm) diameter polypropylene shell
Internally baffled for enhanced heat exchanger performance
"U" factor (depending on flow rate): 25-50 BTU/(hr x ft2 x °F) = 142-284 J/(s x m2 x °C)
Shell-side drain connection
FLUID CONNECTIONS
:
Fluid (tube): ½-inch (12mm) male flare PFA
Shell: ¾-inch (19mm) male flare PFA
Shell drain: ¼-inch (6mm) male flare PFA
MAXIMUM PRESSURE / TEMPERATURE
:
Tube (PFA): 35 PSIG (241 kPa) at 120ºC (250ºF)
Shell (PP): 30 PSIG (206 kPa) at 82ºC (180ºF)
Optional shell (PVDF): 30 PSIG (206 kPa) at 135ºC (275ºF)
WARRANTY
:
Features and Benefits
SUPERIOR CHEMICAL RESISTANCE
:
All tube-side parts are fluoropolymer and compatible with most chemistries for virtually unlimited process options. Shell is available in polypropylene (standard) or PVDF construction.
RUGGED CONSTRUCTION
:
Thick wall, welded construction provides extremely long service life.
OUTSTANDING PERFORMANCE
:
Heavy wall, large diameter tubing improves circulation and minimizes pressure drop.
LEAK-FREE OPERATION
:
Integral inlet/outlet for single point fluid connections simplifies installation and greatly reduces the potential for chemical leaks.
COMPACT SIZE
:
Less surface area required for same BTU exchange compared to most other fluoropolymer exchangers.
CONSULT FACTORY FOR THE FOLLOWING OPTIONS:
¼-inch (6.4mm) to ¾-inch (19mm) Super Pillar 300 Type® connections
Custom sizes based on application
PVDF shell
Vacuum breakers are recommended for steam heating applications. Please consult factory for reduced pressure steam applications. Pulsation dampeners recommended.
Downloads: