Distributed by:

Equipment Overview | Filter Pump Industries / Penguin Pump | Process Technology
SHB/SHC In-line Chemical / Solvent Heaters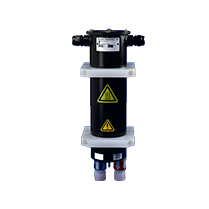 Features and Benefits
Inline electropolished stainless steel or fluoropolymer heater for heating chemistries, single pass or recirculating.
Hermetically sealed high limit thermal cutoff device (TCO).
Insulated housing.
Positive temperature coefficient (PTC) heating elements.
SPECIFICATIONS:
:
250-2000 watts (varies per product line).
120-480V, single phase.
Pressure range: Up to 200 PSIG (1379 kPa)
Temperature range: Up to 180°C (356°F)
Fluid Connections: 1/8" (3mm), 1/4" (6mm), 3/8" (9mm) or 1/2" (12mm); custom connections available.
316 electropolished stainless steel or PTFE wetted surfaces, fluid pathway through a stainless steel tube embedded in aluminum heating block.
CERTIFICATIONS:
:
CE, ETL (tested to UL 823, UL 499 and CSA C22.2). Rated for Class I, Division 2 hazardous locations.
CONSULT FACTORY FOR THE FOLLOWING:
Dual containment plumbing available.
Downloads: