Distributed by:

Equipment Overview | Filter Pump Industries / Penguin Pump | Process Technology
HXSL Series, Flex Riser Fluoropolymer (PTFE) Heaters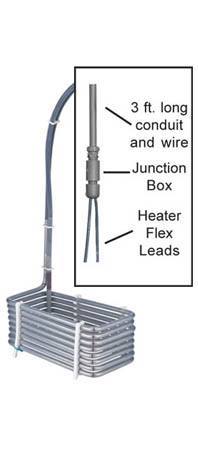 Watts
Volts
Width*
In./(mm)
Length*
In./(mm)
Model Number
Ship Weight
Lbs./(kg)
1000
120
240
*
*
HXSL1000-**
6 (2.5)
2000
120
240
480

*
*
HXSL2000-**
7 (3.5)
3000
120
240
*
*
HXSL3000-**
12 (5.5)
4000
240
480
*
*
HXSL4000-**
14 (6.5)
5000
240
480
*
*
HXSL5000-**
17 (8)
6000
240
480
*
*
HXSL6000-**
20 (9)
*Please consult factory for model numbers of specific heaters. Single phase only. Heaters built to conform to tank dimensions. Risers pictured in left position, right position available. Flexible lead fluoropolymer covered heaters are normally equipped with a Protector 3 overtemperature device which requires a special P3-A circuit board or appropriate temperature control for proper operation. Do not wire this device as indicated for the Protector 1 (P1) or Protector 2 (P2), as a dangerous short circuit will result. Consult factory and installation instructions for P1 or P2 option on rigid riser models. Heaters in excess of 24 amps may require a non-standard head with 3/4" conduit, please consult factory.
Features and Benefits
SUPERIOR CHEMICAL RESISTANCE
:
Inert to most aqueous acid, alkaline, anodizing and pickling solutions up to 212°F (100°C).
RUGGED CONSTRUCTION
:
Heavy wall fluoropolymer (PTFE) covered stainless steel element reduces permeation and eliminates the need for gas purged systems. Guaranteed 100% pinhole free.
CUSTOM BUILT TO CONFORM TO TANK DIMENSIONS
:
FLUOROPOLYMER (PTFE) GUARDS SOLD SEPARATELY
:
OUTSTANDING PERFORMANCE
:
Low watt density design (10 watts/square inch, 1.5 w/cm2) for long service life.
FLEXIBLE RISER
:
4-foot (1.2m) continuous fluoropolymer (PTFE) cable leading to a vapor resistant PVC terminal enclosure with 3-foot (.9m) flexible PVC liquid tight conduit.
SAFETY FEATURES
:
Grounded internal metal element.
Thermal protector built in. Resettable P3 J-type thermocouple standard.
Non-floating construction.
CERTIFICATIONS
:
SIZES
:
1,000 watts to 6,000 watts.
VOLTAGES
:
120 to 600 volts. Single phase only.
CONSULT FACTORY FOR THE FOLLOWING:
Longer fluoropolymer (PTFE) riser lengths.
Rigid riser with vapor resistant, flame retardant polypropylene terminal enclosure and either replaceable or resettable thermal protectors.
Element "purge" option for chemicals that aggressively permeate fluoropolymer sheath.
Special configurations.
Longer wire and conduit lengths.
Lower watt densities for highly viscous solutions and technical acids.
Temperature and level controls sized to match the heater.
We recommend temperature controls and level controls for use with this immersion heater.
Downloads: