Series VF Sealless Pump / Filter Systems by Filter Pump Industries


Equipment Overview | Filter Pump Industries / Penguin Pump | Process Technology
Filter Pump Industries - a division of Penguin Pumps, Incorporated.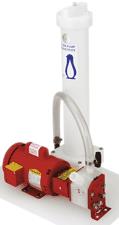 Penguin Series VF Sealless Polypropylene Filter System
Penguin sealless polypropylene filter systems are designed for filtering critical solutions where all metal contact and mechanical seals must be eliminated. Series VF filter systems are equipped with a sealless self-priming pump and heavy duty CPVC or polypropylene filter chamber. These systems are recommended for continuous filtration to 180° F for most acid and alkaline solutions. Penguin Series VF filter systems are maintenance free, simple to clean, and are designed for easy filter cartridge replacement.
Features and Benefits:
Self-Priming
Leak-resistant
No metal contact
Continuous Filtration