Series SR Precious Metal Recovery Systems by Filter Pump Industries


Equipment Overview | Filter Pump Industries / Penguin Pump | Process Technology
Filter Pump Industries - a division of Penguin Pumps, Incorporated.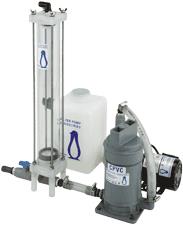 Penguin Series SR Precious Metal Recovery System
For tank capacity to 50 gallons
Penguin precious metal recovery systems are a simple and economical method for reclaiming gold and other precious metals from processing rinse water and drag out tanks. The exchange resin of standard porosity extracts precious metals as well as all positive and negative charged ions from processing wastes. The Series SR systems are used with rinse capacity tanks of 50 gallons and smaller. Up to three troy ounces of precious metal can be recovered per pound, meaning it pays for itself after its initial use.
Features and Benefits:
Recovers 99% of Precious metals
Improves purity of rinse
Low initial cost
Pays for itself during normal plating sequence
Selection of sizes to fit all plating tanks
Longer life before resin changes
Depth filtration available