Series C Filter Cartridge Chambers by Filter Pump Industries


Equipment Overview | Filter Pump Industries / Penguin Pump | Process Technology
Filter Pump Industries - a division of Penguin Pumps, Incorporated.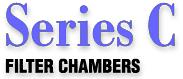 Penguin Series C Filter Cartridge Chambers
Penguin filter chambers are offered in CPVC, polypropylene, and PVDF. The construction of the Series C chambers contains no fragile lucite or glass. There is no metal to liquid contact, no springs to lose or break, and no crushed tubes. Penguin CPVC and polypropylene chambers are recommended for most acid and alkaline solutions. PVDF chambers are recommended for high temperature acids and alkalies, HF, and electroless nickel. All Series C chambers can be mounted on a common polypropylene base and manifolded together for greater capacities or space saving requirements. For portability, casters can be added as an option. Penguin Series C double open end (D.O.E.) chambers are available in single tube, three tube, five tube, and twelve tube vessels. The Series C single open end (S.O.E.) chambers are available in single tube, two tube, four tube and nine tube vessels. Each D.O.E filter chamber is equipped with an initial Penguin 15 micron filter cartridge or set of filter cartridges. Filters for S.O.E chambers are purchased separately. Because of the unique Penguin design, these cartridges ensure maximum particle retention and no liquid bypass.
Features and Benefits:
Leak Resistant
Corrosion Resistant
Unique Penguin design - No liquid bypasss / No external frame rods
Removes solid dirt particles
Quick change cartridge
Choice of construction materials
Uses filter cartridges submicronic pleated cartridges, or filter sleeves
Bulletins (PDF):