Series PP Pleated Filter Cartridges by Filter Pump Industries


Equipment Overview | Filter Pump Industries / Penguin Pump | Process Technology
Filter Pump Industries - a division of Penguin Pumps, Incorporated.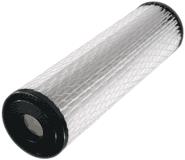 Penguin Series PP Pleated Filter Cartridges
Penguin pleated filter cartridges are an alternative to string wound or spun molded filters. These Series PP pleated cartridges are economical, multi-use, premium quality products that are available in various micron ratings ranging from 50 micron nominal down to .10 micron absolute. End cap configurations include D.O.E. (double open end, flat gasket) and S.O.E. (single open end, external double 222 0-ring/button end cap). Filter medias available include self-bonded fine diameter polypropylene fibers as well as membranes constructed of polypropylene, nylon, or PTEF. Series PP pleated cartridges contain no surfactants or binders that can break down, leach out, or permit the typical problems of channeling and media migration. Maximum effective open surface areas allow for high flow rates at reduced pressure losses, as well as high dirt holding capacity, long service life, large throughputs, and lower operating costs. Series PP pleated cartridges may be used as either prefilters or as final filters for bulk and point-of-use filtration. They are most appropriate for use when high efficiency filtration and economy are crucial.
Features and Benefits:
Nominal and Absolute particle retention ratings
Superior flow characteristics
High dirt holding capacity
Many lengths and cartridge styles
Bulletins (PDF):