Series PF Wound Filter Cartridges by Filter Pump Industries


Equipment Overview | Filter Pump Industries / Penguin Pump | Process Technology
Filter Pump Industries - a division of Penguin Pumps, Incorporated.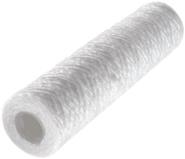 Penguin Series PF Wound Filter Cartridges
Penguin wound filter cartridges provide true depth filtration and are available in a wide selection of media and cores, including pre-leached fibrillated polypropylene, to ensure temperature and chemical compatibility. The Series PF cartridges feature porosities from 0.5 micron to 150 micron, lengths from 3" to 40", and a variety of diameters.
Features and Benefits:
True depth filtration
Various core and media material combinations including pre-leached fibrillated polypropylene
Chemical and temperature compatibility
Wide choices of porosities
Bulletins (PDF):