PE Series Penductor Sparging Eductors by Filter Pump Industries


Equipment Overview | Filter Pump Industries / Penguin Pump | Process Technology
Filter Pump Industries - a division of Penguin Pumps, Incorporated.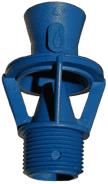 Penguin Series PE Penductor Sparging Eductors
Penguin Penductor sparging eductors offer a new twist to the current eductor craze. Based on established eductor principles, the Series PE Penductor was designed especially for industrial sparging applications. The nozzle was designed utilizing the same orifice size as a typical 3/8" NPT tank mixing eductor, with a larger connection size, thus giving you the same flow characteristics with less pressure drop. This can reduce the horsepower required on larger systems. The larger connection size allows you to use standard PVC reducing tees without extra bushings or reducing couplings, thus saving you valuable tank space. The diffuser was designed with a larger plume dispersion angle for more uniform agitation and a lower profile to allow you to utilize your tank space more efficiently. The result, the Penductor, a more efficient space-saving eductor made specifically for the surface finishing industry.
Features and Benefits:
Flows Comparable with Conventional 3/8" Tank Mixing Eductors
Lower Profile Helps Save Valuable Tank Space and Makes for Easier Retrofits
Larger Connection Sizes Eliminate Need for Multiple Bushings When Using Standard Fittings or P-Series Pump
Larger Plume Dispersion Angle Helps Eliminate Dead Spots Between Eductors
Maximum Temperature 280 °F
Bulletins (PDF):