Series MF MagDrive Pump / Filter Systems by Filter Pump Industries


Equipment Overview | Filter Pump Industries / Penguin Pump | Process Technology
Filter Pump Industries - a division of Penguin Pumps, Incorporated.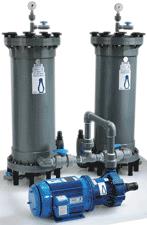 Penguin Series MF Magnetic-Drive Pump/Filter System
Penguin magnetic-driven pump/filter systems are specifically designed with sealless pumps for filtering and circulating without the worries of mechanical seal leakage. Equipped with the Penguin Series M & MT polypropylene magnetic-driven pump and the rugged Penguin CPVC or polypropylene filter chamber, Series MF filter systems are designed for continuous trouble-free service. The smaller compact Series MF filter systems are excellent for complete corrosion resistant filtration in laboratories, pilot plants, and production applications. The larger filter systems provide a high volume, high pressure filter system to which casters can be added for portability. Simple in design and efficient in performance, these systems are recommended for acid and alkaline solutions.
Features and Benefits:
Leak-resistant
Corrosion-resistant
No metal contact
Self-priming when immersed
Uniques design - No liquid bypass
Bulletins (PDF):