Series HF Horizontal Pump / Filter Systems by Filter Pump Industries


Equipment Overview | Filter Pump Industries / Penguin Pump | Process Technology
Filter Pump Industries - a division of Penguin Pumps, Incorporated.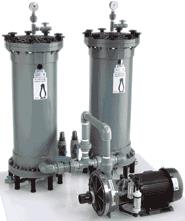 Penguin Series HF Horizontal Pump/Filter System
Penguin horizontal pump/filter systems are constructed of high temperature CPVC, and thus are excellent for most corrosive chemicals and capable of pumping solution to 180° F. Equipped with the Penguin Series HV horizontal volute pump or on larger systems, the Series HN centrifugal pump, and the rugged Penguin CPVC filter chamber, Series HF filter systems are designed for continuous high temperature operation. Series HF systems provide excellent filtration for electroless nickel and copper solutions. These systems are simple to clean and are designed for easy filter cartridge replacement.
Features and Benefits:
CPVC Construction
Chemical-resistant
No metal contact
High temperature operation
Optional double mechanical seal with water flushs