Series A CPVC In-Tank Pump / Outside Filter - Filter Pump Industries


Equipment Overview | Filter Pump Industries / Penguin Pump | Process Technology
Filter Pump Industries - a division of Penguin Pumps, Incorporated.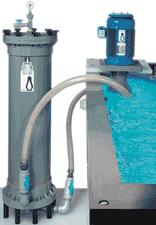 Penguin Series A In-Tank Pump/Outside Filter System
Penguin in-tank pump / outside filter systems are ruggedly constructed and corrosion resistant. The Series A filter systems are designed for continuous operation with no metal to liquid contact and are versatile and easy to install, since both pump and filter chamber are independent units. Series A filter systems are available in CPVC and certain models in polypropylene and PVDF. Simple in design and efficient in performance, the Series A filter systems are recommended for all precious metal plating baths, electroless nickel and copper, as well as many acid and alkaline solutions. These systems are simple to clean and are designed for easy filter cartridge replacement.
Features and Benefits:
Leak-resistant
Corrosion-resistant
No metal contact
Self-priming when immersed
Uniques design - No liquid bypass
Heavy Duty operation