A-SF CPVC, In-Tank Suction Filter Systems by Filter Pump Industries


Equipment Overview | Filter Pump Industries / Penguin Pump | Process Technology
Filter Pump Industries - a division of Penguin Pumps, Incorporated.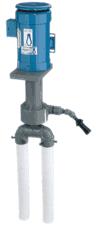 Penguin Series A-SF Suction Filter System
Penguin suction filter systems are ruggedly constructed and corrosion resistant. The Series A-SF filter systems are designed for continuous duty operation and trouble-free service. These systems are easy to install and maintain since there is only one moving part. Series A-SF suction filter systems offer filtration rates up to 3400 gph. They are constructed completely of CPVC, eliminating any metal contact.
Features and Benefits:
Pumps, Filters and agitates
Compact, Inexpensive, and dependable
Versatile and portable
Self-priming when immersed
Immersible, Sealless, Bearing-free pump runs dry without damage
Bulletins (PDF):