A-A CPVC, In-Tank Filter Systems by Filter Pump Industries


Equipment Overview | Filter Pump Industries / Penguin Pump | Process Technology
Filter Pump Industries - a division of Penguin Pumps, Incorporated.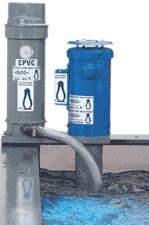 Penguin Series A-A In-Tank Filter System
Penguin in-tank filter systems are all purpose, compact, fully portable, corrosion resistant, and require no floor space. They are constructed so no metal is in contact with the solution. The Series A-A filter systems are available in CPVC, polypropylene, and PVDF. These systems incorporate an in-tank pump and a tank lip-mounted filter chamber. The Series A-A filter systems need not be removed from the tank for cleaning or replacing filter cartridges. These systems are available in 6 sizes to serve all small and medium volume tanks.
Features and Benefits:
Leak-resistant
Corrosion-resistant
No metal contact
Self-priming when immersed
Uniques design - No liquid bypass
Bulletins (PDF):